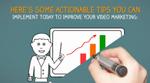 For a while now, i've been using some really easy to use software to help me create, well, a tonne of brand new videos.
Making Videos that don't suck has always been difficult.
Now it's easier, and i've been using it for the last few months.
In addition, I've actually been paying someone else to help me create videos, and it's cost me just $1.50 an hour to outsource this.
Here's an example of one of my videos I created with this software:
The result is hundreds of extra video views that I wouldn't have normally received.
Which means I can create videos based around my key words to drive more traffic to my website.
Once on my website, we have a pop up form to collect email addresses.  Easy, right ?
But it all starts with some decent video.
And it's CHEAP to buy too !
I'd love to know what you think. Comment via Facebook here